Marigold Grow Kit
Fun fact! Different types of marigold flowers are known as the "Herb of the Sun" and are a symbol of passion and creativity.
🚛 Lightning-Fast Shipping: Orders Dispatched Within 24 Hours!
Mfd. & Mktd. by Cropnosys (India) Pvt Ltd
Rs. 1,499.00
MRP. 1,899.00
you save Rs. 400.00
(inclusive of all taxes)
Overview
The Marigold, also known as Tagetes, is an annual flower that can be grown in pots or garden beds. Offering an extensive variety clubbed with the ability to withstand the harshest climates, makes it a flower-world underdog. These dainty flowers also blend with nearly any type of soil, blooming best in moderately fertile, well-drained soil.


How To Use
3 easy steps
Step 1:
Fill the pot with pot mix, make a hole and place the cocopeat coin.

Step 2:
Pour half a glass of water on the cocopeat. After it rises, sow the seeds.

Step 3:
The seed will germinate in 8-10 days with good care and maintenance.

Includes
Pot & plate
Marigold seeds
Natural pot mix
Nutrition spray
Protection spray
Nutrition powder
Germination cocopeat coin
Instruction manual
FAQs
1. Does Marigold require deadheading?
No, they don't, but if dying blossoms are regularly removed, it enables the plant to continue blooming profusely.

2. How to water them?
Do not water marigolds from overhead. Water at the base of the plant ensuring that the soil is moist, especially when plants are young. Water more in high heat.

3. How to take care of the flowers?
Do not fertilize marigolds during growth. A diet that's too nitrogen-rich stimulates lush foliage at the expense of flowers.
Amazing kit
It's really amazing. All things are available in one box. Even white color pot is too beautiful. I just love it.
Superb kit
A superb kit, never seen like this before. An excellent growing kit for all plant parents.
Fresh & Vibrant
The marigold flowers I bought from this seller were perfect for making garlands for a wedding ceremony. The blooms were fresh and vibrant, and they added a beautiful touch to the decorations. Highly recommend!
Great addition to my garden
I was looking for a natural way to repel mosquitoes and other pests from my garden, and I found marigolds to be the perfect solution. The marigold plants I purchased from this seller have been a great addition to my garden. Not only do they keep the pests away, but they also look beautiful.
Highly recommend
I am so impressed with the quality of the marigold seeds from this seller! The flowers are vibrant and the plants are strong. I have been able to harvest a ton of blooms for use in my pooja room. Highly recommend buying from this seller. - Radhika from Mumbai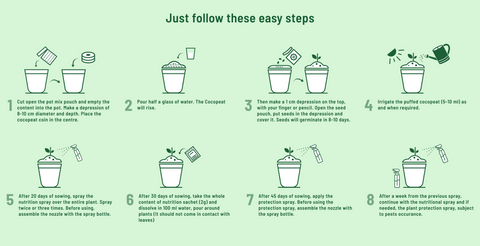 Frequently asked question
Are the seeds in the grow kits organic?
Yes, all of the seeds in our grow kits are certified organic and non-GMO.
Can I grow the plants outdoors?
Yes, you can grow the plants outdoors as long as they are suitable for your climate and growing conditions. Check the recommended planting instructions for each kit to make sure the plants are compatible with your region.
How do I know when it's time to harvest my plants?
The time it takes for the plants to mature and be ready for harvest varies depending on the type of plant. Check the product description for an estimated time frame for each kit. You can also monitor the growth of your plants and harvest them when they are at the desired size and maturity.
What if I have never grown plants before?
Our grow kits are designed to be easy and beginner-friendly. Each kit comes with detailed instructions on how to plant and care for your plants. If you have any questions or concerns, our customer support team is always available to help.