Cherry Tomato Grow Kit
Rich in antioxidants and aesthetics,
colours your salad and garden!
🚛 Lightning-Fast Shipping: Orders Dispatched Within 24 Hours!
Mfd. & Mktd. by Cropnosys (India) Pvt Ltd
Rs. 1,499.00
MRP. 1,899.00
you save Rs. 400.00
(inclusive of all taxes)
Overview
Cherry Tomatoes are the love your pizza, pasta and palate deserve. Rich in lycopene and Vitamin A, C, E, & K it aces in fibre and is low on calories. Next time they come after your Pizza, tell them about this healthy tidbit. This small wonder also contains lycopene that limits the UV damage to your skin and promotes better heart health.
How To Use
Step 1:
Fill the pot with pot mix, make a hole and place the cocopeat coin.

Step 2:
Pour half a glass of water on the cocopeat. After it rises, sow the seeds.

Step 3:
The seed will germinate in 8-10 days with good care and maintenance.
Includes
Pot & plate
Cherry Tomato seeds
Natural pot mix
Nutrition spray
Protection spray
Nutrition powder
Germination cocopeat coin
Instruction manual
FAQs
1. When do cherry tomato plants start producing fruit?
After about 45 days from date of planting, depending on climate and plant maintenance.

2. How frequently should they be watered?
Cherry Tomatoes are happiest being watered twice a week rather than frequent watering.

3. How to handle the plant once it becomes bushy?
Once the cherry tomato plant starts to become bushy, you'll need to stake a few inches away for support and to keep the fruit from lying on the ground. Tie the plant's main stalk gently to the stake with a piece of yarn or soft string, and plan to rearrange it as the plant grows. Remove the suckers or small stems growing from the main stem for better plant growth.

Very nice
M big fan of pots. Bloom kits
Great kit
I really happy to get this amazing hamper. Infact my all family members love this. I wish I can get another kit.
Easy to grow
I have been looking for a way to add more color to my vegetable garden, and these cherry tomato plants were the perfect solution. They are easy to grow and the tomatoes are so flavorful. Highly recommend buying from this seller.
Sweet & Juicy
These cherry tomatoes are the perfect size for snacking, and they are so sweet and juicy. I've been using them in salads and pasta dishes, and they add a wonderful burst of flavor. Highly recommend!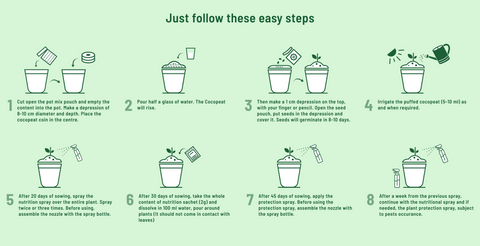 Frequently asked question
Are the seeds in the grow kits organic?
Yes, all of the seeds in our grow kits are certified organic and non-GMO.
Can I grow the plants outdoors?
Yes, you can grow the plants outdoors as long as they are suitable for your climate and growing conditions. Check the recommended planting instructions for each kit to make sure the plants are compatible with your region.
How do I know when it's time to harvest my plants?
The time it takes for the plants to mature and be ready for harvest varies depending on the type of plant. Check the product description for an estimated time frame for each kit. You can also monitor the growth of your plants and harvest them when they are at the desired size and maturity.
What if I have never grown plants before?
Our grow kits are designed to be easy and beginner-friendly. Each kit comes with detailed instructions on how to plant and care for your plants. If you have any questions or concerns, our customer support team is always available to help.