Spinach Grow Kit
"I'm strong to the finich
cause I eats me spinach
I'm Popeye the Sailor Man"
🚛 Lightning-Fast Shipping: Orders Dispatched Within 24 Hours!
Mfd. & Mktd. by Cropnosys (India) Pvt Ltd
Rs. 1,499.00
MRP. 1,899.00
you save Rs. 400.00
(inclusive of all taxes)
Overview
Our cartoon superstar Popeye gulped his Palak portions and turned his superpowers on! He knew this green leafy vegetable is an immunity booster and a powerhouse of nutrients. Our desi plant is low on calories, high on calcium, magnesium and Vitamin K. It gives you healthy bones, helps your heart and defeats germs, quite an all-rounder sailor it is!
How To Use
Step 1:
Fill the pot with pot mix, make a hole and place the cocopeat coin.

Step 2:
Pour half a glass of water on the cocopeat. After it rises, sow the seeds.

Step 3:
The seed will germinate in 8-10 days with good care and maintenance.
Includes
Pot & plate
Spinach seeds
Natural pot mix
Nutrition spray
Protection spray
Nutrition powder
Germination cocopeat coin
Instruction manual
FAQs
1. Where to sow spinach seeds?
Sow seeds in a shallow moist drill and overly lightly with soil.

2. Where can baby leaves be used?
Baby leaves can be harvested and used in salads, mature leaves to wilt for use in soups and stews.

3. Is it required to soak spinach seeds before planting?
It's absolutely not essential. It however aids the germination process but is not necessary.

Needs a bit more clarity
Though the instructions are very simple. Timelines for growth on each type of seed is different. That should be mentioned with detailing. One of out 4 seeds have started to grow well...while i am waiting on the balance 3 to start eventhough all were planted at the same time.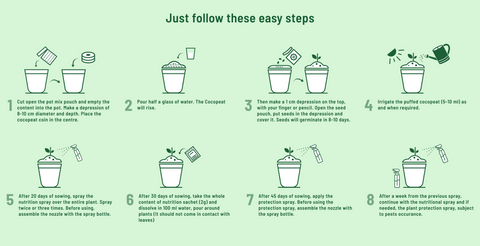 Frequently asked question
Are the seeds in the grow kits organic?
Yes, all of the seeds in our grow kits are certified organic and non-GMO.
Can I grow the plants outdoors?
Yes, you can grow the plants outdoors as long as they are suitable for your climate and growing conditions. Check the recommended planting instructions for each kit to make sure the plants are compatible with your region.
How do I know when it's time to harvest my plants?
The time it takes for the plants to mature and be ready for harvest varies depending on the type of plant. Check the product description for an estimated time frame for each kit. You can also monitor the growth of your plants and harvest them when they are at the desired size and maturity.
What if I have never grown plants before?
Our grow kits are designed to be easy and beginner-friendly. Each kit comes with detailed instructions on how to plant and care for your plants. If you have any questions or concerns, our customer support team is always available to help.