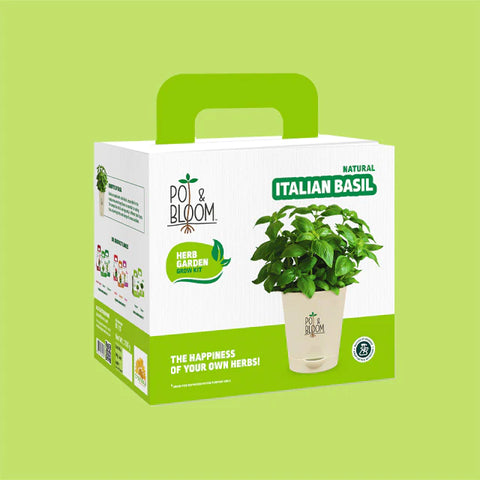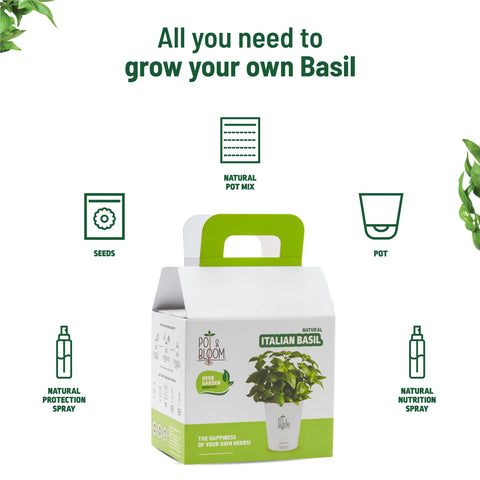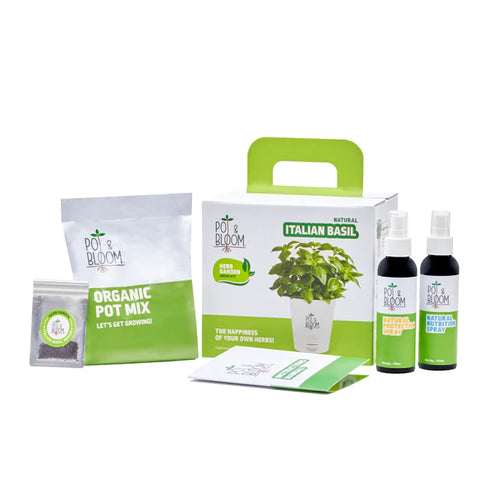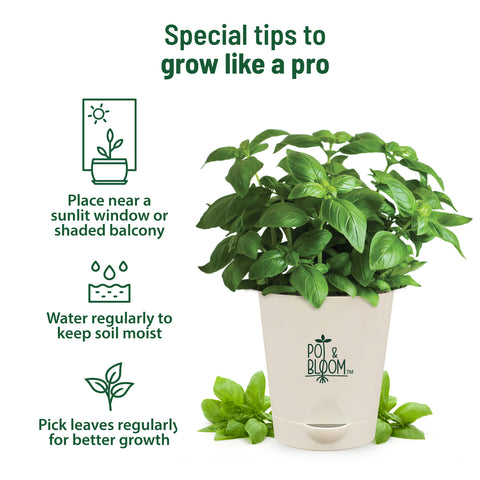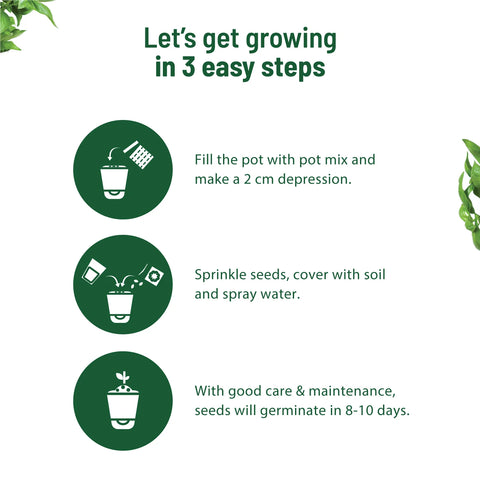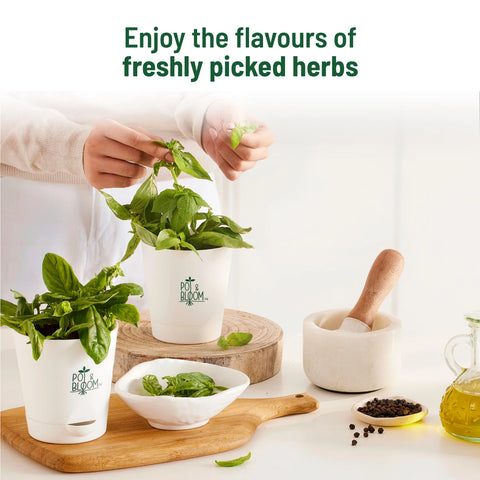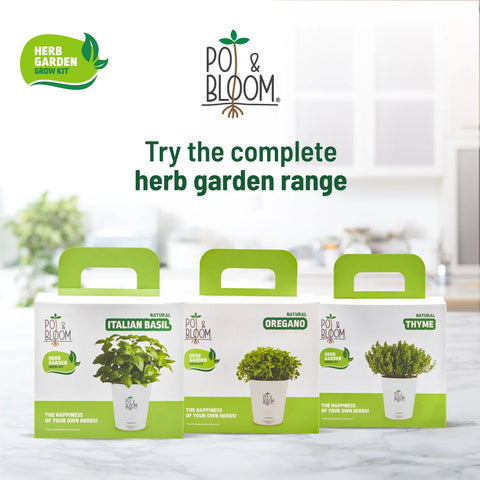 Italian Basil Kit
Italian Basil is a versatile herb,
It is rich in antioxidants and has anti-inflammatory properties, making it a healthy addition to your diet.
🚛 Lightning-Fast Shipping: Orders Dispatched Within 24 Hours!
Mfd. & Mktd. by Cropnosys (India) Pvt Ltd
Rs. 799.00
MRP. 1,049.00
you save Rs. 250.00
(inclusive of all taxes)
Overview
Italian basil is a small, leafy green herb with a crisp, fresh aroma and a bright, pungent flavor. The plant has delicate, oval-shaped leaves that are smooth and glossy with a vibrant green color. The Italian basil plant has a compact, bushy growth habit and produces small, white or pink flowers in clusters. The leaves have a tender, slightly sweet taste that is perfect for adding to salads, sauces, pastas, and soups. This variety of Italian basil is a staple in Italian cooking and is widely used in many traditional dishes, giving them a unique, aromatic flavor. Overall, Italian basil is a crisp and refreshing herb that adds a burst of flavor to any dish.
How To Use
1. Cut open the pot mix pouch and empty the contents into the pot.

2. Make a 2 cm depression on the top, with your finger or a pencil. Open the seed pouch, sprinkle multiple seeds all around and cover it.

3. Spray water or add teaspoons of water. Seeds will germinate in 8-10 days.

4. Irrigate (5-10 ml) as and when required.

5. After 20 days of sowing, spray the nutrition spray over the entire plant. Spray twice or three times. Before using, assemble the nozzle with the spray bottle.

6. If needed, use the plant protection spray, subject to pest occurrence.

Includes
Self watering plant
Basil seeds
Natural pot mix
Natural nutrition spray
Natural protection spray
FAQs
1) What is the best time to plant basil?
- Basil is a warm-season herb that can be planted in spring after the last frost date or in early summer.

2) How much sun does basil need?
- Basil needs at least 6 hours of direct sunlight per day to grow well.

3) How often should I water basil?
- Basil needs to be kept consistently moist, but not waterlogged. Water the soil thoroughly when the top inch becomes dry.

4) How do I prune basil?
- Prune basil regularly by pinching back the tips of the stems to encourage bushier growth. This also helps to prevent flowering and prolong the life of the plant.

5) What are some common problems when growing basil?
- Some common issues when growing basil include yellowing leaves (often due to overwatering), slow growth (often due to too little light), and wilting (often due to under-watering). Use the protection spray given in the kit to combat pests.

Fabulous
Just the way we thought it
All in one
Best kit and all in one kit
Italian Basil Kit
Great experience indeed , it has started coming out from the pot now . Enjoying the process of new beginning !!!
best
I received the kit a few days ago, as soon as I opened it the packaging was very nice and the pods and other stuff inside are very nice, I have planted Italian basil plants they will grow very soon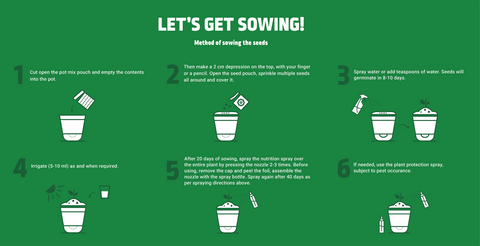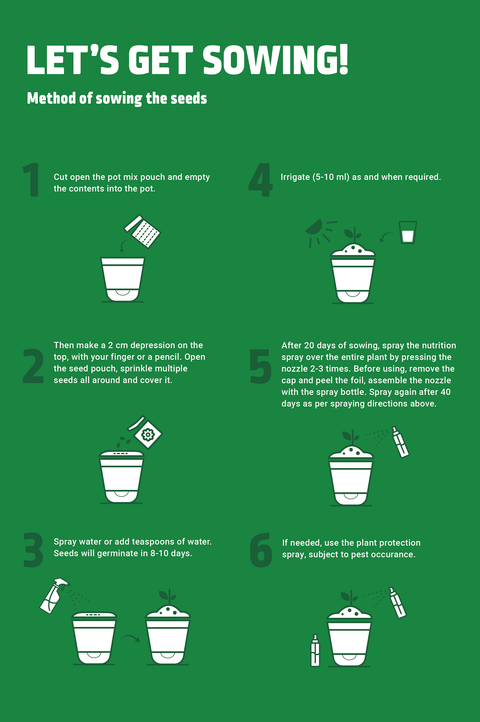 Frequently asked question
How long does it take for the herbs to grow?
It usually takes between 7-21 days for the herbs to germinate and start growing. The time it takes for the herbs to mature and be ready for harvest varies depending on the type of herb and growing conditions.
Can I grow the herbs indoors?
Yes, you can grow the herbs indoors as long as they have access to natural light or grow lights. Make sure to place the herb kits in a sunny spot or near a window for best results.
How often do I need to water the herbs?
It's important to keep the soil moist but not waterlogged. Check the soil daily and water when the top inch of soil feels dry to the touch. Overwatering can lead to root rot, so make sure to not overdo it!
Can I reuse the herb kit for future plantings?
The kit includes everything needed for one planting, but you can reuse the container by purchasing additional soil and seeds. Clean the container thoroughly before reusing to prevent any potential plant diseases.