Zinnia Grow Kit
In the intricate language of flowers, Zinnia symbolises friendship.

Get Rs.200 OFF! Limited Time Offer!
🚛 Lightning-Fast Shipping: Orders Dispatched Within 24 Hours!
Mfd. & Mktd. by Cropnosys (India) Pvt Ltd
Rs. 1,499.00
MRP. 1,899.00
you save Rs. 400.00
(inclusive of all taxes)
Overview
One of the most aesthetically pleasing plants to grow in your home and garden is the Zinnia flower. With no preparation time and excellent flowering time, the double mix flower is a sure winner for the best indoor flower you can have.
How To Use
Step 1:
Fill the pot with pot mix, make a hole and place the cocopeat coin.

Step 2:
Pour half a glass of water on the cocopeat. After it rises, sow the seeds.

Step 3:
The seed will germinate in 8-10 days with good care and maintenance.
Includes
Pot & plate
Zinnia seeds
Natural pot mix
Nutrition spray
Protection spray
Nutrition powder
Germination cocopeat coin
Instruction manual
FAQs
1. Are zinnia plants harmful for animals?
Zinnia seeds are safe to plant around animals, they are non-toxic to dogs, cats and horses. Your pet and plant are safe near each other.

2. What is the seedling sprout time?
Give them sunshine and water and you'll have seedlings popping up in 4 to 7 days.

3. How long will it take to bloom?
Zinnia plants tend to grow quickly, you'll have beautiful bright blooms in about 60 days.
Really good
Me and my son both are happy with this pot n bloom kit
Easy to grow kit
Fully satisfied with the product and my kid got very excited to see the whole process.
Nice product
Easy to grow plants at home
Best plants
Awesome plant's so enjoyed with fun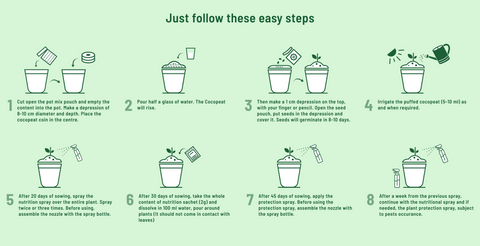 Frequently asked question
Are the seeds in the grow kits organic?
Yes, all of the seeds in our grow kits are certified organic and non-GMO.
Can I grow the plants outdoors?
Yes, you can grow the plants outdoors as long as they are suitable for your climate and growing conditions. Check the recommended planting instructions for each kit to make sure the plants are compatible with your region.
How do I know when it's time to harvest my plants?
The time it takes for the plants to mature and be ready for harvest varies depending on the type of plant. Check the product description for an estimated time frame for each kit. You can also monitor the growth of your plants and harvest them when they are at the desired size and maturity.
What if I have never grown plants before?
Our grow kits are designed to be easy and beginner-friendly. Each kit comes with detailed instructions on how to plant and care for your plants. If you have any questions or concerns, our customer support team is always available to help.