Dahlia Grow Kit
A lil' fun factoid: Dahlia was originally classified as a vegetable!
🚛 Lightning-Fast Shipping: Orders Dispatched Within 24 Hours!
Mfd. & Mktd. by Cropnosys (India) Pvt Ltd
Rs. 1,499.00
MRP. 1,899.00
you save Rs. 400.00
(inclusive of all taxes)
Overview
Every season there is one flower that takes the cake. With dahlias, you can have flowers year-round. There's just something about it that makes them instantly lovable. Perhaps it's their rich diversity, or perhaps it's their versatility, but who can resist the ability to grow these in almost any climate?
How To Use
Step 1:
Fill the pot with pot mix, make a hole and place the cocopeat coin.

Step 2:
Pour half a glass of water on the cocopeat. After it rises, sow the seeds.

Step 3:
The seed will germinate in 8-10 days with good care and maintenance.
Includes
Pot & plate
Dahlia seeds
Natural pot mix
Nutrition spray
Protection spray
Nutrition powder
Germination cocopeat coin
Instruction manual
FAQs
1. How much distance is viable while sowing the seeds?
The plants need good air circulation to thrive, so place smaller varieties about 12 inches
apart and large cultivars up to three feet apart.

2. How to tackle new growth?
Regardless of where you grow them in the ground or in containers—plant tubers in an area that receives full sun, water them regularly, and fertilize them promptly when new growth appears

Amazing kit
The kit was amazing and very nice. I am eagerly waiting for flower to bloom
Super
This kit is amazing. Loving it. Its mash free.
So good
Loved this kit. I comes with som many things needed to take care of the plant. Happy!!
Very easy and amazing
I loved the complete kit! it's very easy to grow a plant with all the instructions.. I'm obsessed with this kit 😍
Quality products with beautiful packaging
Dahlia grow kit truly a superb idea to help plant parents willing to grow dahlia.Loved it's all in one concept with pesticide fertilizer nutrition soil mix self watering pot.Must buy product for plant parents i genuinely recommended 💚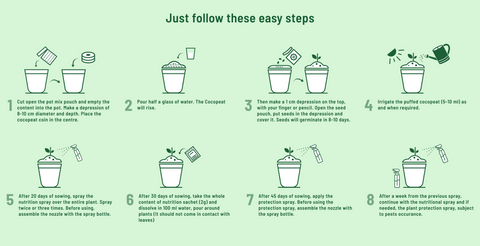 Frequently asked question
Are the seeds in the grow kits organic?
Yes, all of the seeds in our grow kits are certified organic and non-GMO.
Can I grow the plants outdoors?
Yes, you can grow the plants outdoors as long as they are suitable for your climate and growing conditions. Check the recommended planting instructions for each kit to make sure the plants are compatible with your region.
How do I know when it's time to harvest my plants?
The time it takes for the plants to mature and be ready for harvest varies depending on the type of plant. Check the product description for an estimated time frame for each kit. You can also monitor the growth of your plants and harvest them when they are at the desired size and maturity.
What if I have never grown plants before?
Our grow kits are designed to be easy and beginner-friendly. Each kit comes with detailed instructions on how to plant and care for your plants. If you have any questions or concerns, our customer support team is always available to help.